P-book vs E-book
(A "PDF" FOR SALE...) 
---
Double Standard @ Print Propaganda :

 
Reanalyzing the Book Industry 
© Nirupam Banerjee
---
INSTANT DIGITAL DOWNLOAD — $4.99
▼ See below a grand Thumbnail of the Book Description page i.e. Semi-cover here. And to zoom, just click THIS PHOTO.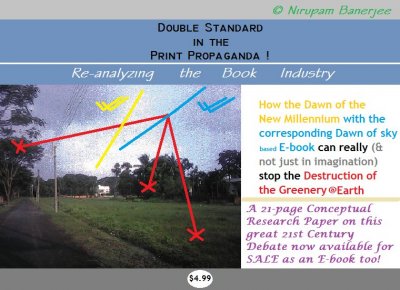 ▼ Also see the Free

SAMPLE PAGES

(including 3 of the 6 diagrams in the Booklet) by
clicking

 MY PHOTO HERE.
 Unlike EMPIRICAL research often funded in the Western universities, the CONCEPTUAL research has not usually had any Sponsor! But this kind of Intuitive (or Analysis + Intuition) based Research — if done correctly — is much faster and super professional to conclude things when there is dearth of data or agnosticism or a seemingly endless debate!! If you wait for the "data" still, you can; but your business may halt. And you can't take the best decision in advance. 
The Print-book industry sinks into history at a much faster rate than any Empiric research in the West is ever grasping! Their society might still upload so many PDFs of such University/etc-sponsored studies for

Free

. E.g. the Print-books have still invincible demand, the Print-book sells at least in the 3rd world, etc, etc. 
But My Conceptual Research based E-booklet, addressing the same "P-books vs E-books" topic from quite a different angle, (letting go of the Emotional & Sentimental conclusions when exactly are they required, and letting go of the over-emphasis on data and its own analysis based conclusion when exactly is it required,) is now up for

SALE

.  
TO BUY:
Click

 the "Add to Bag" button, and then, one of the hyperlinks at the "Shopping Bag" in the screen. Next just ensure the Qty (Quantity) remains 1.
Then during the Checkout process, your
email address

and

an outline geographic address

are required. While the boxes for the address line 2 & the postal code & the phone number, are quite optional.